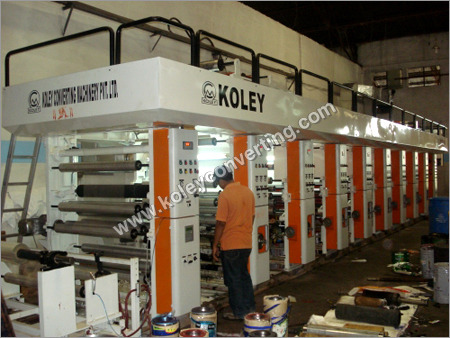 Gravure Printing Machine
Gravure Printing Machine:

In India, we are a prominent Gravure Printing Machine Supplier, Manufacturer, and Exporter, of a comprehensive ambit of Rotogravure Printing Machines. These range of products are used for continuously printing such as packing products, various plastic film, currency, cloth and thin leather. All these machines find they extensive applications for printing mediums of low and high density polyethylene, polypropylene, aluminium foil, paper and other flexible packaging material. To manufacture these high-grade machines, we make use of optimum-grade raw materials and technologically advanced machinery.


Technical Specifications


Basic Specification

Web substrate
Number of colours
Web Width
Web roller
Machine speed

Film, paper, aluminium foil, etc
1 - 10 colours
600 mm - 1400 mm
Aluminium rollers
Upto 200 m/min

Unwinder

Unwind type
Reel diameter
Unwind shaft
Tension controller

Single fixed shaft type or 2 shaft turret type unwinder
800 mm
Air shaft, tapper cone with solid shaft or shaftness
Fully automatic control system (A.C. Motor)

Infeed unit



Synchronized control (A.C. Motor)

Printing Unit

Frame
Cylinder
Chucking
Impression
Drying system
Doctor Blade
Ink system
Registration system

Cast iron
Diameter - 130 mm to 300 mm
Shaft with taper cone
One roll arm with pneumatic pressure system
Single chamber impingement slot dryer (electric, thermic oil, hot air generator, etc.)
Pneumatic pressure system
S. S. ink tray
Auto Registration control

Outfeed unit



Synchronized control (A.C. Motor)

Rewinder

Rewind type
Reel diameter
Rewind shaft
Tension controller

Single fixed shaft type or 2 shaft turret type rewinder
800 mm
Air shaft, taper cone with solid shaft or shaftness
Fully automatic control system (A.C. Motor)