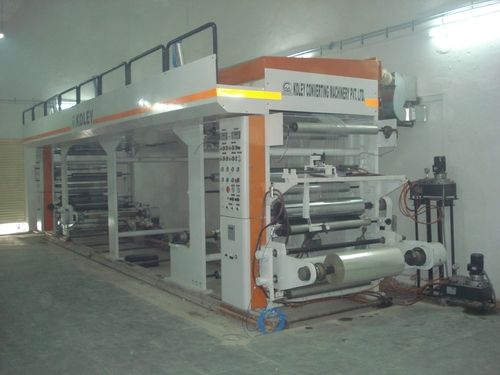 Dry Lamination Machine
Dry Lamination Machine:
As an eminent Dry Coating Lamination Machine, Manufacturer, Exporter, and Supplier, of India, we are engaged in presenting Dry Lamination Machine. These machines are designed for laminating various combination of flexible substrates for packaging with minimum labor and time. Our rage of Dry Lamination Machine has additional facilities such as Silicon coating, Adhesive coating for tapes, stickers and heat shrinkable coating on polyster foils and OLB. Our range of machine are best known for attributes like superb performance, supreme material quality, convenient to utilize, cost efficient and reliable and the likes.

The Wet and Dry Coating Lamination Machine specially designed multipurpose with additional facilities like Silicon coating, Adhesive coating for tapes, stickers and heat shrinkable coating on polyster foils and OLB. The machine is made up of C.I. heavy body. Pneumatic system can be fitted at no extra cost. It has a very comfortable exhaust system for solvent fumes. Tention control and web guide can also be provided at no extra cost.

Technical Specification




Basic Specification


Substrate
Machine


Speed Web Width


Films, Paper, Aluminium Foil, etc.
Upto 250 m/min (depending on Material & Adhesive Quality,
600 mm - 1400 mm


No. 1 Unwinder

Unwind Type
Reel Diameter
Edge Guide

Single fixed shaft type or 2 Shaft turret type unwinder
800 mm
Automatic Control


No. 2 Unwinder

Unwind Type
Reel Diameter
Edge Guide
Single fixed shaft type or 2 Shaft turret type unwinder
800 mm
Automatic Control


No. 3 Unwinder

Unwind Type
Reel Diameter

One shaft fixed type
Max. 400 mm

Core Locking



Air Expansion Shaft or Taper cone with solid shaft





Model - I

Model - II




Tension Control

Unwinder
Infeed
Coating
Nipping
Outfeed
Tunnel
Rewinder

Powder Brake / A.C. Motor
Nil
A.C. Motor
A.C. Motor
Nil
A.C. Motor
A.C. Motor

A.C. Motor
A.C. Motor
A.C. Motor
A.C. Motor
A.C. Motor
A.C. Motor
A.C. Motor

Coating System

Wet
Dry

3 Roll Coating System
Gravure Coating


Drying System



Quick Return type chamber impingement slot dryer (Electric, Hot Oil or Hot Air Generator etc.)

Rewinder

Rewind Type
Reel Diameter

Single fixed shaft type or 2 shaft turret type rewinder
800 mm