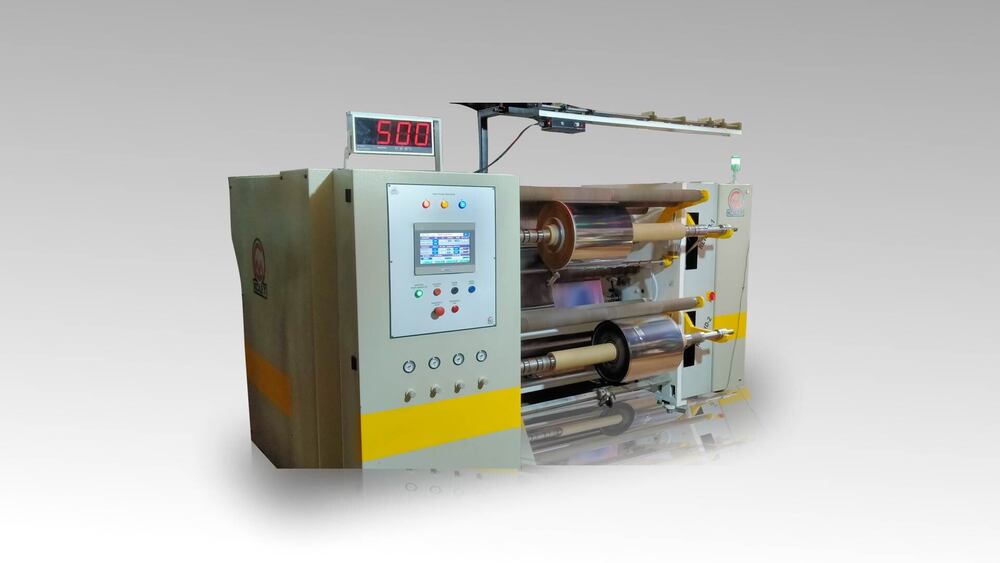 Slitting Machine
Slitting Machine:
Leveraging on our skilled professionals, we as a leading Slitting Machines Supplier, Manufacturer, and Exporter, are engaged in offering an excellent array of Slitter Machines in India. All our products have gained immense popularity among our clients in a stipulated time period. Our machines exhibit features Energy efficient, Efficient performance, Automatic operation, Wrinkle free wrapping, Easy to operate, and the likes. To manufacture these machines, we have developed a state-of-the-art infrastructural unit which gives us the strength to process the bulk orders of our clients as per their specification.

We have in store for our clients a wide range of Slitting Machine. All aspects of the machine operation have been refined to maximum product quality and consistency whilst minimizing down time.
Technical Specifications
Basic Specification

Substrate
Web Width
Slitting Method
Machine Speed
Main Driving Motor

Film, Paper, Al. Foil
Upto 1500 m.m.
Razor Blade & Circular Knife
Max. 300 M / Min. (Depending on Material)
Variable Speed A.C. or D.C. Motor


Unwinder

Real. Dia
Tension Control
Edge Guide

Max. 800 m.m.
By Powder brake or A.C. or D.C. Motor or Manual
Automatic Control

Rewinder

Real Dia
Tension Control
Slitting Width

Max. 500 m.m.
By Powder Clutch Or A.C. or D.C. Motor Or Manual
From 50 m.m.